In the previous two posts I covered information that can be unearthed on buildings by using public records, peridical indices, and commerical databases.  Information on historical buildings can be invaluable to developers or anyone doing business in an historic building and neighborhood.  In this post I cover some really interesting places that such information can be found.  
History libraries and other special collections often offer really unique sources for researching a building or neighborhood.  These collections usually include atlases, building permits, directories, indexes, and photographs.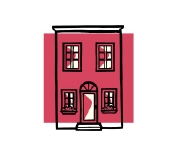 Architectural guidebooks are a good place to start when you have questions about historical buildings.  Look for these in the architectural and design collections of university libraries; many collections will be location-oriented—so you will need to search the catalog (or query the reference desk) of a library near the locale you are researching.     
The Yale University Library offers titles about surrounding areas. For example:  
New Haven architecture 1950-1996. The Alliance for Architecture. New Haven:  The Alliance for Architecture, 1997
Buildings and landmarks of old Boston: a guide to the Colonial, Provincial, Federal, and Greek revival periods, 1630-1850. Howard S. Andros.Hanover: University Press of New England, c2001.
The Berkeley library maintains titles such as:
An architectural guidebook to San Francisco and the Bay area. Susan Dinkelspiel Cerny; contributing authors and … 1st ed.Layton,UT: Gibbs Smith, c2007.
The guide to architecture in San Francisco and northern California. David Gebhard Rev.ed. Salt Lake City: G.M. Smith, 1985. 
There are guides published for most major cities:
Pocket Guide to Chicago Architecture.  Judith Paine McBrien (Oct 17, 2004)
AIA Guide to the Architecture of Washington, D.C.   G. Martin Moeller (May 11, 2012)
Guide to Contemporary New York City Architecture.   John Hill  (Dec 5, 2011)
Guide to architecture in Los Angeles & Source California.  Gebhard, David.
Guide to Denver architecture with regional highlights  2001.
Seattle architecture: a walking guide to downtown. Elenga, Maureen R.
City directories are great for finding the historical records of a building.  They are arranged by address, and so can help you identify the past residents of a structure.  Historical assessor information will allow tracing of ownership. Many city directories were produced annually and offer cross listings searchable either by address or name.  Most state and public libraries, as well as local historical societies, collect city directories for their region.  (Often these are on microfiche.)  EDR (covered in the last post ) provides a database compiling these for the entire U.S.

National Park Service—Heritage Documentation Programs/Historic American Buildings Survey
 This is a totally awesome website  if you need historical information, or (like me) you just love history.  (http://www.nps.gov/history/hdp/habs/index.htm)   The Heritage Documentation Programs include: HABS (Historic American Buildings Survey), the federal government's oldest preservation program; and companion programs HAER (Historic American Engineering Record); HALS (Historic American Landscapes Survey); and CRGIS (Cultural Resources Geographic Information Systems).
"Documentation produced through the programs constitutes the nation's largest archive of historic architectural, engineering, and landscape documentation."  This documentation includes not just photographs, but drawings, historical field data, and written field notes. Many of the resources are in the public domain.
From this web site searchers can find some really unique information.  For example, the program is now producing AutoCAD drawings from laser scans to "make the site or structure understandable to the general public, and to interpret the industrial processes, patterns of use, and the cultural values imbedded within."  In addition, information on the Historic American Buildings Survey/Historic American Engineering Record/Historic American Landscapes Survey * (HABS/HAER/HALS) collection at the Library of Congress has been updated through a new online catalog that indexes the metadata that the National Park Service provides for more than 350,000 large-format photographs and drawings covering some 40,000 sites.
To test this information I searched for "church Santa Fe," and got 39 hits. Some were large images that are only available at the Library of Congress, some were surveys. After choosing a set of drawings of the San Miguel Church, Santa Fe, I could also browse the collection near them by call number,  finding photographs taken in 1934. Records also provide information on obtaining access to the originals.
The Library of Congress database is not just for the NPS, but indexes the entire LC collection, with information on a wide variety of places: Disney Studios; 542 items on Route 66; bridges and railroad turntables in Eureka Springs, Arkansas; and the baseball field at the now demolished Fitzsimons Hospital in Colorado…  (I had to stop there before I lost even more time looking at old buildings!)
For more information on finding maps and aerial photos go to the Finding Local Information bibliographic research guide at the UC Berkeley library web site.
Fire Insurance Maps
These maps were originally produced for insurance underwriters, who used them to determine risks and establish premiums.  Fire insurance maps are detailed city plans, usually at scales of 50 or 100 feet to an inch. They show individual building footprints, complete with construction details, such as building material (brick, adobe, frame, etc.), height (of larger buildings), number of stories, location of doors, windows, chimneys and elevators, use of structure (dwelling, hotel, church, etc.), street address, and occasionally the ethnicity of the occupants. Other features shown include lot lines, street widths, water pipes, hydrants and cisterns, and fire-fighting facilities.
The Library of Congress Sanborn Fire Insurance Maps Online Checklist provides a searchable database of the fire insurance maps published by the Sanborn Map Company housed in the collections of the Geography and Map Division. Most are not available online. (http://www.loc.gov/rr/geogmap/sanborn/)  Copies may be purchased from the current copyright holder Environmental Data Resources, Inc.
Sanborn** maps include detailed information regarding town and building information in approximately 12,000 U.S. towns and cities from 1867 to 2007.  The lithograph maps were bound into volumes for U.S. cities. Each volume contains an enormous amount of information. They are organized with an index of streets and addresses, a 'specials' index with the names of churches, schools, businesses, etc., and a master index indicating the entirety of the mapped area and the sheet numbers for each large-scale map (usually depicting four to six blocks) and general information such as population, economy and prevailing wind direction. The maps include outlines of each building and outbuilding, the location of windows and doors, street names, street and sidewalk widths, property boundaries, fire walls, natural features (rivers, canals, etc.), railroad corridors, building use (sometimes even particular room uses), house and block number, as well as the composition of building materials (including the framing, flooring, and roofing materials), the strength of the local fire department, indications of sprinkler systems, locations of fire hydrants, location of water and gas mains, and even the names of most public buildings, churches and companies.
If your business or client needs information on buildings–who owns them, who built them, what do they look like…—these three posts will provide plenty of places to look.  As always, the goal is to decide what you really want before you start looking, because the quantity of data can be overwhelming.  But you should be able to find what you need.  Just don't get caught up in looking forever because it is so interesting! 
*Go to http://www.loc.gov/pictures/collection/hh/ for more information on the surveys.  This collection is worth a longer look.
**Warren Buffett once owned this company.